Cheltenham: How it all began
Will Reilly
Racing at Cheltenham has a long and successful history.
The current track, Prestbury Park, stands in the gaze of picturesque Cleeve Hill in Gloucestershire. Racing was first established on the hill in 1819, although steeplechasing first made its mark there in 1834, the year of the first running of the Grand Annual Steeplechase.
That race was first run in the Vale of Prestbury. Racing at Cheltenham was then held at a number of venues in the years that followed, the sport always being accompanied by local festivities. Flat racing at Cheltenham ended in 1855.
The National Hunt Steeplechase, now run as race seven on the opening day of the festival, will this year be run as the Ukraine Appeal National Hunt Challenge Cup.
It was first run in 1855 but found its way to Prestbury Park in 1911, by which time it was the third most-valuable race in the jumping calendar and the centrepiece of Cheltenham's March meeting, which found a permanent home at Prestbury Park, where the festival is still held, in 1902.
In 1922, the track's chairman, FH Cathcart, took the view that staging a meeting full of handicaps was doing little to improve the quality and appeal of racing at the track. Consequently, the race committee decided to frame a race in which the best horses met at level weights, with a nine pounds weight-concession permitted for five-year-olds. It was called the Cheltenham Gold Cup and was first run on 12 March 1924.
By the early 1930s, the Cheltenham Gold Cup was established as a key race in the calendar, and had managed to emerge from under the shadow of the Aintree Grand National.
Our Cheltenham Festival ante-post markets can be found via this link – we have been NON RUNNER-CASH BACK on all races since Feb 8th
The fact that Cheltenham races became a key event in the English social calendar owed much to Cathcart's forward thinking and, undoubtedly, the arrival of Golden Miller. He won five-successive Gold Cups from 1932 and, in doing so, found his way into the public's hearts. Just for good measure, he also won the 1934 Aintree Grand National.
Ireland has been dominating the Festival for a few years now, but its influence first announced itself strongly after the Second World War through Prince Regent's win in the Gold Cup. He was trained by Tom Dreaper, who would go on to train the legendary Arkle, the winner of three-successive Gold Cups from 1964 and, based on most opinions and measures, the greatest chaser ever to grace the sport.
Before Arkle, though, came the equally legendary Vincent O'Brien, who sent out Cottage Rake to win three successive Gold Cups from 1948 and Hatton's Grace to win three successive Champion Hurdles from 1949. (The Champion Hurdle was first run in 1927.)
Between 1948 and 1955, O'Brien trained the winners of four Cheltenham Gold Cups, three Champion Hurdles and three-successive Aintree Grand Nationals. He then went on to conquer flat racing and his training achievements are without equal.
The history of Cheltenham is full of famous racing names, both equine and human, and competing at the March Festival has become the principal target for most horses each season. It is often referred to as jump racing's version of the Olympics, where the best meet the best, many of them in championship races.
But it is more than just a race meeting. Four days of racing in March are said to bring in £100 million to the local economy; on-course betting is estimated to generate £40 million, while the off-course figure is said to be somewhere between £450-£500 million.
On top of this, around 260,000 people attend the fixture and consume vast quantities of tea, coffee, wine, beer, Guinness, beef, potatoes, smoked salmon, and more besides, much of it produced and supplied locally. Ryanair lay on fifty extra flights from Ireland to accommodate the extra demand, which runs to around 20,000 passengers.
Woven tightly into the four days, of course, are the deeds of horses, jockeys and trainers. Great names spring readily to mind: Arkle and Pat Taaffe; Dawn Run and Jonjo O'Neill; Istabraq and Charlie Swan; Best Mate and Jim Culloty. This year, dual-Cheltenham Gold Cup winner Al Boum Photo, dual Festival winner Honeysuckle (the hugely-popular reigning champion hurdler) and five-time Festival winner Tiger Roll are set to take part. Their presence adds greatly to the sense of anticipation and excitement.
The list could run and run, the mere mention of such names inspiring warm memories and revisited respect and gratitude.
The 2022 four-day Festival will, no doubt, bring with it the usual array of hype, hope, heartbreak and heroes. It is sport at its finest: unscripted drama and glorious uncertainty; athleticism and achievement; colour and spectacle; keen but sporting rivalry; appreciative and knowledgeable crowds.
And, as history tells us, it is likely to provide huge excitement, along with great sporting memories. This year, it all begins on Tuesday, March 15th.
We will be BOOSTING THE PRICE of the FAVOURITE on the LIVE SHOWS in EVERY RACE at the CHELTENHAM FESTIVAL (March 15-18)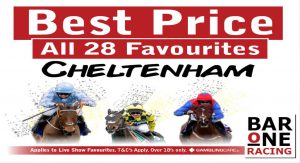 We are BEST ODDS GUARANTEED on UK & IRISH RACING on SINGLE & MULTIPLE bets across ALL PLATFORMS – and this applies from the night before the meeting (when prices first appear)