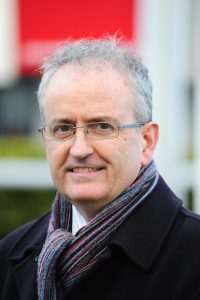 Cheltenham Preview: the Supreme Novices' Hurdle
By Will Reilly
This is a stats-based preview of the 2021 Supreme Novices' Hurdle, which will be run at 1:20pm on Tuesday March 16th
This piece is based on the last 20 races.
Ireland
Horses trained in Ireland have won 12 of the 20, but only four of them were sent off as the outright-favourite. You can add in one joint-favourite, Vautour in 2014.
This includes a purple patch from 2002-2004 when Like-A-Butterfly, Back In Front and Brave Inca came home in front as the market-leaders.
This said, since 2005 five well-supported Irish favourites have been beaten: Sweet Wake (5/2, 2006), Cousin Vinny (9/4, 2009), Dunguib (4/5, 2010), Getabird (7/4, 2018) and Asterion Forlonge (2020) .
 Fate of the Favourites
The market-leader has won only four of the last 20 'Supremes' (plus one joint-favourite)
Only one outright-favourite has won since Brave Inca scored in 2004, which was Douvan in 2015
There has been no British-trained winning-favourite since Forest Sun in 1990
Initial Conclusions
It has been a good race for Ireland this century, but not for the favourite.
It has, though, been rare for the favourite to run poorly, with 12 of the 20 market-leaders (or joint-favourites) finishing in the first three and only three finishing outside of the first five.
Willie Mullins
Willie Mullins record in the race since 2013 is 11122014, although he has had 21 runners in those eight renewals.
Willie's winners of the race so far are Tourist Attraction (1995), Ebaziyan (2007), Champagne Fever (2013), Vautour (2014), Douvan (2015) and Klassical Dream (2019) so he has a fine recent record in the race.
A Further Conclusion
The favourite often runs well without winning, and whatever Willie Mullins runs has to be seriously considered.
The latest BarOneRacing.com prices for the Supreme Novices' Hurdle can be found here
Age, Form, SPs
Eighteen of the last 20 winners have been aged five (7 wins) or six (11).
Seventeen of the 20 'Supreme' winners this century had won last-time out; 12 of them had won in February of the year they won it and 16 of the 20 won in January or February in the year they won it.
Only four of the last 20 'Supreme' winners had previously won at Cheltenham and only two of them had won over hurdles at the track (Altior and Noland).
Only one of the last 10 winners has been returned at bigger-than 10/1, with 6 of the last 8 being returned at 6/1 or shorter
Winning distance:
11 of the 20 have been won by two lengths or less
16 of the 20 have been won by 4.5 lengths or less
Four have been won by six lengths or more
Just one has been won by a double-figure margin – Back In Front, by ten lengths in 2003.
Don't forget that we will be BOOSTING THE PRICE of the FAVOURITE on the LIVE SHOWS in EVERY RACE at the CHELTENHAM FESTIVAL…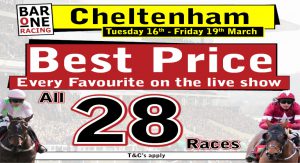 More Conclusions
The favourite has a just-over 20% chance of winning.
A favourite trained in Britain has not won the race this century. In fact, the last favourite trained in Britain to win the race was Forest Sun in 1990.
There is a near-75% chance that the favourite will finish in the first five
There is a better-than 60% chance that an Irish-trained horse will win the race.
There is also a high-degree of probability that the winner will have won last-time out (17 of 20 have done that) and that they will have run in January of February in the year of their 'Supreme' victory (16 of 20).
Previous Cheltenham form is no guarantee of an advantage in the race
There is a better-than 65% chance that the winning distance will be four lengths or less (14 of 20).
And Finally…
The stats (based on the last 20 races) also tell us the following:
An Irish runner that is NOT the outright-favourite has a better-than 33% chance of winning (7 of 20)
The winner will be aged five or six (18 of 20)
The winner will have won last-time out, probably in January or February (16 of 20)
The favourite, if trained in Britain, has 0% chance of winning.
Selection:
At the current prices, based on the stats for the last 20 races, Metier (6/1) and Soaring Glory (8/1) have to be seriously considered, with Appreciate It one to take on at the price. In fact, again based on the stats, Ballyadam (6/1) may be worth an each-way investment.
After all, Ireland has a good recent record in winning the race with a horse that isn't favourite.
Prices correct as at 4pm on Tuesday March 2nd 2021
Don't forget that we have been NON RUNNER/NO BET (I.E. CASH BACK) on the CHELTENHAM FESTIVAL since 9am on JANUARY 6TH…