Folks, we are back with another excellent Trainer Q and A. This time around we have a  trainer who is grabbing his opportunity with both hands and has quickly achieved a very good strike-rate.
Kevin, who was born in Belgium, started his career in France by riding out for Criquette Head-Maarek, where he served his apprenticeship. During that time he got to ride work on the dual Prix de l'Arc de Triomphe heroine, Treve.
Following on from that he had a stint with John Oxx in the Curragh and then went to Christophe Clement in Florida. The last four years have been spent with the team of James Fanshawe in Newmarket.
His mother, Brigitte Jacques, trains a small string in Chantilly and wasn't overly keen on her son going into training racehorses.
We have seen his strike-rate improve massively in recent weeks with a solid partnership with Benoit De La Sayette, an apprentice who is based with John Gosden.
He has acquired some very nice horses to watch out for: Hint Of Stars and Heptathlete have really impressed me and, if you read further down the Q and A, Kevin has kindly given a horse to follow for the season ahead.
I would like to thank him for his time and wish himself and his team all the very best for the future.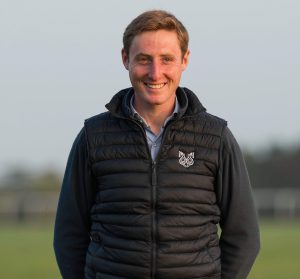 1. Where are you based?
Machell Place Stables in Newmarket – we are ideally situated at the foot of Warren Hill.
2. What was your first job in racing?
I rode out during the summer holidays and at weekends for Criquette Head in Chantilly; she is like a second mum to me.
3. When did you decide you wanted to train racehorses?
It was so long ago I cant remember.
4. How long is a normal working day?
24hours at the moment!
5. How many horses do you have in training at the minute?
We have 25 at the moment with other 2-year olds yet to come in from pre-training, and room for plenty more.
6. Describe the feeling of your first winner and what horse was it?
Sealed Offer – it was great to get one on the board but I was already looking for the next one a couple of minutes later.
7. Most memorable winner?
Sealed Offer's win at Lingfield on 16th December – it was my first as a trainer and had the added bonus of being a GBB race.
8. You rode work on Treve when she was a two year-old, how did that feel?
From her first piece of work we knew she was something out of the ordinary. Her electric turn of foot is something I will always remember.
9. How do you deal with dips in form of the horses?
We will soon find out but it will start with a large gin!
10. Favourite racecourse?
Both Newmarket courses, mostly because it is quite a short drive.
11. Toughest Course to train a winner?
Probably Cheltenham, but we will give it a go one day!
12. Is social media something your training establishment would use a lot?
Yes, we have accounts on all social media platforms & are slowly trying to build our online presence. We have a new website under development and will be having live feeds to it from our social media
13. One horse for our readers to follow for the season ahead?
Sealed Offer – she impressed as a 2-year old, is currently on a break and should come back fitter & stronger ready to campaign her 3-year-old career.
14. Benoit De La Sayette has really impressed with his riding this season: how impressed are you by him?
I have known Benoit for quite a few years now and have always been impressed with his riding – he has lovely quiet hands and had a very successful pony racing career, so it is of little surprise to me how well he has kick-started his career as a jockey.
15. If you weren't a trainer what would you be doing now?
I would be a chef – my cooking at the moment leaves a little to be desired but with training I think I could improve!
16. Have you adopted any of your training regime from trainers that you may have worked with previously?
My training is a melting pot of all of those I have had the pleasure of gaining experience from.
17. What one horse would you like to train?
A horse capable of winning at Royal Ascot and Cheltenham in the same year!
18. In terms of your gallop is it deep sand or what type do you use?
We are very fortunate to be situated centrally in Newmarket with full use of all of the Jockey Club training facilities – I like to mix grass and all-weather training.
19. Favourite food?
Dark chocolate digestive biscuits!!
20. Hobbies outside of racing?
Cycling to the pub for a Sunday roast with a group of friends and trying to find our way home afterwards!
21. What would you like to own that you dont have already?
A restaurant! Ideally outside my front door.