Folks, we are delighted to be back with another lockdown Q and A. This time it is with Newmarket trainer Amy Murphy.  Amy worked as an Assistant Trainer to Luca Cumani and also spent some time with Gai Waterhouse in Australia. Her father, Paul, was a successful trainer.
When she was growing up Amy spent some time riding out for trainers like Nicky Henderson and Dr Richard Newland. At that time she was her in formative years and gained triple honours in horse management. She also rode as a jockey.
She moved on from there and became Pupil Assistant Trainer to Tom Dascombe at Manor House Stables where she spent a summer meeting at Deauville looking after the horses.
Just 27, she took out a full licence 2017. 120 winners later, she has firmly established herself as a dual-purpose handler and is certainly a trainer on the up.
Following on from Kalashnikov winning a big pot (Grade 3 Betfair Hurdle) at Newbury in 2018, he has become the stable star. He went on to finish second, beaten a neck, to Summerville Boy in the Grade 1 Supreme Novices' Hurdle the following month at the Cheltenham Festival and has since won the 2019 Grade 1 Devenish Manifesto Novices' Chase at Aintree's Grand National meeting.
Amy's team also has an association with the Melbourne 10 Racing syndicate with their horse mentioned in the Q&A below as one to follow.
Another notable success for Amy in a so-far short career was Really Super in last year's Grade 3 Summer Plate at Market Rasen. That made it three graded successes, including a Grade 1, plus a narrow defeat in a Grade 1 at the Cheltenham Festival in less-than four years with a licence. That is quite a start to life as a trainer.
She has been quoted as saying, "I'm committed to employing the best people I can. I want to be the best myself. I live, eat, breathe and sleep this job." Her dedication and focus are certainly reaping rewards.
I would like to thank Amy for her time and wish her and her team all the best on both the flat and National Hunt for the remainder of the season and beyond.
Where are you based?
Southgate Stables, which is on the Hamilton Road – Racecourse Side of Newmarket
What was your first job in racing?
My first job in racing was with Ed McMahon
When did you decide you wanted to train racehorses? 
When I was 15 years old.
How long is a normal working day?
For me, I am generally working all day. For the staff, it is a standard working day. I try to give the staff as much time off as possible for a better work/life balance so they all get two afternoons a week off.
How many horses do you have in training at the minute?
We are slightly down on numbers due to the time of year at around 55-60. We have had some horses retire, some have gone to the sales and the flat horses are now starting to go out on their holidays. We are typically at around 70.
Describe the feeling of your first winner and what horse was it?
My first winner was Mercian King, who is owned by my father, so as you can imagine it was a very special moment
Most memorable winner?
Kalashnikov's first big win the in the Grade 3 Betfair Hurdle at Newbury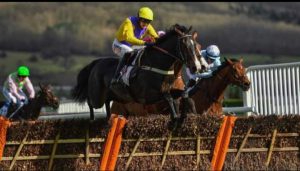 Kalashnikov jumps the last on his way to a valuable success at Newbury
How do you deal with dips in form of the horses?
Anybody who is involved in racing knows the extreme highs and lows that can be experienced so you generally have to ride the storm until you come out the other side – and alcohol always helps!!
Favourite racecourse?
Flat – Goodwood. Jumps – Cheltenham.
Toughest Course to train a winner?
Right now I'd say Wolverhampton as we have never had a winner there.
Is social media something your training establishment would use a lot?
Yes, we try and do as much as we can on social media as it helps to keep you noticed
One horse for our readers to follow for the season ahead?
Jamessaintpatrick
If you weren't a trainer what would you be doing now?
I would still be working with horses in some capacity
Have you adopted any of your training regime from any trainers that you may have worked with previously?
Yes, there are things that I learnt while working for Luca Cumani, Gai Waterhouse and Tom Dascombe that I have implemented in to my training regime.
What one horse would you like to train?
Enable, for obvious reasons
In terms of your gallop is it deep sand or what type do you use?
We are lucky here in Newmarket as we have a massive of choice of gallops with different surfaces. We generally train on polytrack; however, I like to get them on the grass whenever possible on work mornings.
Favourite food?
Chinese
Hobbies outside of racing?
Spending time with my family and friends while enjoying a glass of Prosecco.
What would you like to own that you don't have already?
A state of the art training facility would be ideal!!