Everton v Liverpool, Premier League
Sun June 21st, KO 7pm
What a match to enjoy on Sunday evening, the Merseyside derby, with the runaway leaders making the short trip across Stanley Park to face their city rivals, who will be only too happy to hinder their march towards a first league title since 1990.
There is certainly no love lost between these sides, something I became more-fully aware of when living in Liverpool for three years in the mid-1990s. When it comes to football, it is a passionate, extremely knowledgeable, but deeply partisan city.
Adding further interest is the fact that Liverpool are currently on target to set a number of Premier League records, which are listed below.
FORM
EVERTON
Everton have the sixth-worst defensive record in the Premier League this season, while only Man City (71) have scored more than Liverpool's 66 league goals this season.
Everton have won just two of their last seven league matches, losing two of them, although they have lost just four of their last 16 matches in all competitions.
Everton's growing confidence under new manager Carlo Ancelotti took a knock with a 4-0 loss at Chelsea just before the season was suspended.
Striker Dominic Calvert-Lewin looks to have benefited as much as anyone since Ancelotti's arrival, with five goals in his last seven starts.
LIVERPOOL
After sweeping all before them going into the 'winter break', Liverpool's form since then has been patchy, with four wins and three losses in all competitions and just one clean sheet.
They have, though, won all bar two of their games in the league so far this season (drawing at Man Utd, losing at Watford) and are still on target to set a number of Premier League records (see below).
Liverpool have won 27 of their 29 league games this season and lost just one, although that loss came two games ago, 3-0 at Watford, which is the only league game this season in which Liverpool have failed to score.
They have won 19 of their last 20 Premier League matches.
In Liverpool's last 30 matches (all comps), Mo Salah has started 23 times and scored 12 goals; Sadio Mané has started 20 and scored 8, while Roberto Firmino has started 22 and scored 9. Of course, they all pose potent goal threats.
RECORDS for LIVERPOOL to aim at…
The highest number of points accumulated in winning the Premier League is 100 (Man City, 2017-18). Liverpool currently have 82 with a further 27 up for grabs.
The biggest winning margin in a Premier League season is 18 points (Man City, 2017-18). Liverpool are currently 22 points ahead of second-placed Man City with nine games to play.
The highest number of away points amassed in a Premier League season is 50 (Man City, 2017-18). Liverpool currently have 37 points and they have five away games left to play this season.
The highest number of home wins in a Premier League season is 18 (Chelsea, 2005-6, Man Utd, 2010-11, and Man City, 2011-12 and 2018-19). Liverpool have won all 15 of their Premier League games so far this season and have four to play.
The highest number of away games won in a Premier League season is 16 (Man City, 2017-18). Liverpool have won 12 games away from home in the league this season and have five left to play.
Manchester United and Manchester City jointly hold the record for the earliest Premier League title win, with Sir Alex Ferguson's side of 2000-01 and Pep Guardiola's team of 2017-18 both achieving it with five games left in the season. Liverpool have nine games left to play and need six points to secure the title.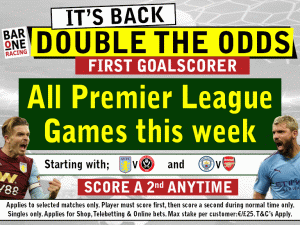 INJURY NEWS
EVERTON
Theo Walcott is out with an abdominal problem. Yerry Mina will also miss out.
LIVERPOOL
Alisson is expected to be fit – he injured his hip against Atletico Madrid in the Champions League on March 11. Mo Salah has recently sat out a number of training sessions and might not start. Keep an eye on late news. Alex Oxlade-Chamberlain took a knock on his ankle against Blackburn last weekend but has trained in the last couple of days. Xherdan Shaqiri has had a difficult season with injuries but now seems to be fit, although he is very unlikely to start this match. Nathaniel Clyne is still absent owing to a cruciate ligament injury.
HEAD-TO-HEADS:
Everton haven't won a Merseyside derby since 2010 and have failed to score on the last three occasions Liverpool have paid them a visit in the league. However, six of Liverpool's last seven league visits to Goodison Park have ended in a draw.
Liverpool – four wins and three draws for the red half of the city from the last 7 meetings between these two sides in all comps, with the goal tally being 10-4 in Liverpool's favour. Everton last won this fixture in 2010.
In total, Everton and Liverpool have met 19 times at Goodison Park in the league this century, with the scores being:
0-0, 0-0, 0-1, 1-1, 0-0, 3-3, 2-2, 0-2, 2-0, 0-2, 0-2, 1-2, 3-0, 1-3, 1-0, 0-3, 1-2, 1-3 and 2-3
That works out at ten wins for Liverpool, three for Everton and six draws (which have all come in the last seven years).
In 11 of the 19 games, one side failed to score, but there have been just three 0-0 draws.
Nine of the 19 games have had over 2.5 goals in them, 10 have had 2 or less.
VERDICT
I can't see Liverpool making the same mistakes they made following the 'winter break' after which they looked a bit rusty. They will turn up here as fresh as paint and look set to move another step closer to claiming the league title.
Liverpool to win at 6/10 looks good.
As it is a DOUBLE THE ODDS on FIRST GOALSCORER BETS match with us (see poster above) then my recommendation would be SADIO MANE at 4/1. He is, in fact, the last player to have scored a goal in this fixture, in December 2016.
He is 6/4 to score at anytime in the game, which also looks fair enough to me.
If pressed for a score prediction, I'd go with 2-0 to Liverpool (13/2).
Based on the head-to-head stats above, Under 2.5 goals at 6/5 is reasonably priced, although my main suggestions are Liverpool to win and Sadio Mané to score at anytime.
All prices were correct as at 8:15pm on Thursday June 18th