As a young lad, I was extremely fortunate to meet Arkle, who holds a special place in racing's history and in the hearts of racing fans. He was in retirement at the time in Ireland and a cousin of mine – my family hails from a long line of blacksmiths – was involved with his welfare.
I have a picture to mark the occasion: Arkle with one of my sisters plus our cousin. It was the early-1970s and my sister's smile is as wide as the winning distance of Arkle's third Gold Cup, which is fully understandable given that she had just met, stroked, fed and patted one of racing's greatest legends, had got a hair from his tail and even a lick of her autograph book.
We still have the hair and the book and, of course, the memories.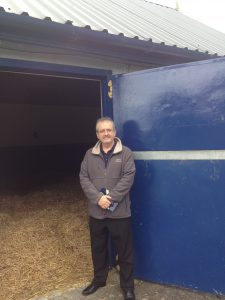 Will Reilly standing by the stable at Ballymacoll Stud in County Meath where Arkle was foaled
Things that you remember about Arkle are his confidence, gentleness, presence and poise. Okay, I was a small being at the time, but I still felt that I was in the company of something special. He gently walked over when he saw us and took great interest, in a gentle way, of all that was going on. There was no nastiness or intrusion to him and he held his head high and inquisitively in a manner that suggested confidence and a love of life.
My father, Tom, who was originally from Dunboyne in County Meath and had worked for Arkle's trainer, Tom Dreaper, had backed Arkle for the 1963 Hennessy Gold Cup at Newbury. You see, he had met up with Mr Dreaper at Newbury and, in his masterfully understated way, he told dad that it was quite possible that Arkle was a bit better than Prince Regent. Yes, that's the Prince Regent who, in 1946, won the Champion Chase and Gold Cup at Cheltenham at a time when his career was in decline, the Second World War having denied him the chance to be tested in his prime.
You can understand, then, why Dad backed Arkle. However, he got beaten in the Hennessy, an uncharacteristic mistake early in the home straight effectively ending his chance on a foggy day in Berkshire.
The race was won by Mill House, the rising star of English chasing that had landed the 1963 Cheltenham Gold Cup as a mere six-year-old. No horse of that age had won the race until Long Run scored in 2011.
Undeterred – for Tom Dreaper's greatness was heavily backed up by astuteness – Dad headed for Cheltenham and the 1964 Gold Cup. He cut a fairly lonely figure in the 'Arkle queue' as the gang who had derided him after Arkle's defeat at Newbury opted for Mill House.
Well, the rest, as they say is history. Arkle galloped up the Cheltenham hill to inflict a defeat on Fulke Walwyn's hugely-talented gelding from which, some said, he never recovered.
His brilliance established, Arkle went on to confirm his greatness by winning the Gold Cup again in 1965 and 1966 and he remains the benchmark by which chasers are measured.
In total, he ran 35 times, winning on 27 occasions, and he never fell in any of his races. Over fences, he ran 26 times, winning on 22 occasions, finishing second twice and third twice. He was ridden to all-but one of his victories by legendary horseman Pat Taaffe. Paddy Woods, his work rider, rode him to victory at Gowran Park in 1962.
In addition to his three Cheltenham Gold Cups, he won the King George VI Chase (1965), the Irish Grand National (1964), the Hennessy Gold Cup (1964 and 1965), the Whitbread Gold Cup (1965), the Leopardstown Chase (1964, 65, 66), the Thyestes Chase (1964) and the Broadway Chase (now the RSA Chase, 1963). When he was entered for handicaps, the grader had to frame two separate lists of weights, one with him in the race, and one if he didn't run. In the 1965 Whitbread, he conceded 35lbs to the entire field and made most of the running to score.
His career ended all-too-early when a pedal bone injury was sustained in the 1966 King George VI Chase, and even then he managed to finish second. You see, he also had courage.
His name is commemorated at Cheltenham with the Arkle Challenge Trophy bearing his name. There is also a statue to his memory at the track and, I guess I should add, a bar named after him too.
There is also a wonderful statue of him and Pat Taaffe in Ashbourne, County Meath, which was unveiled in 2014. If you haven't seen it, it is well worth a visit. It captures their partnership brilliantly and is surely one of the best statues of its kind.
The sculptor was Emma McDermott and the statue project was managed by Lynsey Dreaper, granddaughter of Tom and daughter of Tom's son, Jim, who is also a successful racehorse trainer.
In his fine book 'The Great Racehorses', Julian Wilson wrote: "No one who ever saw what he achieved – and how he achieved it – could ever expect to see his like again", while esteemed racing publication Timeform in 1966 wrote that he 'has proved himself the greatest chaser ever'.
He remains one of racing's greatest and most-loved horses.