Jockey Interviews with Alan Marron
This is something new for the Bar One Racing Blog and will give an insight into jockeys from here in Ireland and also across the water.
First up is Ireland's 2016 champion pony racing rider Rossa Ryan, who is now based in England with the powerful Richard Hannon stable. He rode 150 winners on the pony racing circuit.
I would like to thank Rossa for taking the time to answer my questions and we wish him all the very best for the season ahead.
Have a read below folks.
JOCKEY QUESTIONS AND ANSWERS:

NAME: ROSSA RYAN
AGE: 19 (HE WILL BE 20 ON JULY 3RD)
WHERE ARE YOU FROM: COROFIN, CO.GALWAY
STABLE YOU'RE ATTACHED TO: RICHARD HANNON BUT CAN GO HERE, THERE AND EVERYWHERE, SO I CAN.
HOW DID YOU GET INTO RACING: MY DAD, DAVID, IS A JUMPS TRAINER, MAINLY POINT-TO-POINT NOWADAYS, AND MY UNCLE AND COUSIN ARE JOCKEYS SO IT RAN IN THE FAMILY
JOCKEY YOU IDOLISED GROWING UP: MICK KINANE
FAVOURITE RACECOURSE AND WHY? GOODWOOD BECAUSE I'VE ALWAYS HAD LUCK AROUND THERE AND RODE MY FIRST GROUP WINNER THERE LAST YEAR ON DUKE OF HAZZARD FOR PAUL COLE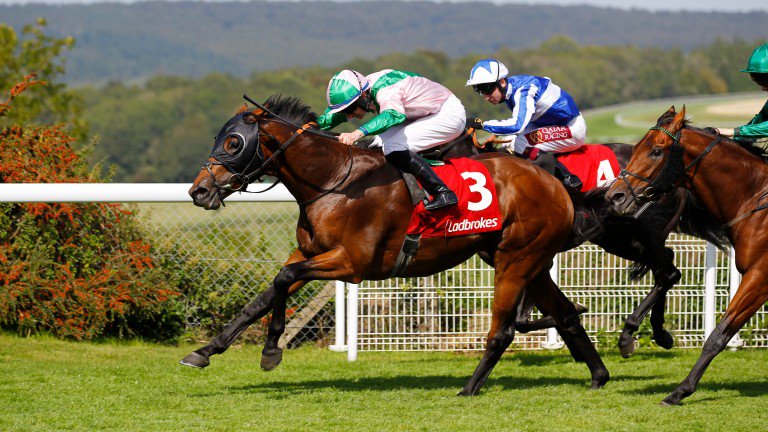 Rossa Ryan and Duke Of Hazzard win the Group 2 Celebration Mile at Goodwood in August 2019
TOUGHEST COURSE TO RIDE: NEWMARKET, ROWLEY MILE; EVERYONE SAYS GOODWOOD BUT I HAVE HAD PLENTY OF LUCK THERE.
BIGGEST WIN TO DATE: GROUP TWO CELEBRATION MILE, GOODWOOD (ON DUKE OF HAZZARD)
HOW MANY WINNERS HAVE YOU RIDDEN? 172 SINCE I STARTED SO NOT A BAD NUMBER FOR THE LENGTH OF TIME RIDING. (ROSSA'S FIRST WINNER WAS SOLAR HEAT FOR TRAINER DOT LOVE ON DECEMBER 9TH 2016 AT DUNDALK)
HORSE THAT YOU MOST LOOK FORWARD TO RIDING THIS SEASON: DUKE OF HAZZARD
RACE YOU WOULD MOST LIKE TO WIN: EPSOM DERBY AS IT IS THE RACE OF ALL RACES IN MY OPINION
WHAT WOULD YOU LIKE TO OWN THAT YOU DONT HAVE ALREADY: APPLE PHONE COMPANY!
HOBBIES OUTSIDE OF RACING: I PLAY A BIT OF GOLF; I'M NOT GREAT AT IT BUT IT'S SOMETHING TO DO, I SUPPOSE.
FOOTBALL TEAM YOU SUPPORT: I'M NOT A BIG FOOTBALL FAN, MORE RUGBY AND GAA BUT IF I HAD TO HAVE ONE, MAN UTD IS ALWAYS WHAT I WOULD SAY.