It was great to see Steve Cauthen featured today (Tues April 7th) on the Racing Post website in the Racing Post Classics, A Racing Legend, as recalled by Brough Scott.
Nicknamed the Kentucky Kid, owing to his birthplace and the young age at which he burst onto the American racing scene, his impact was colossal and he is the only jockey to have been named Sports Illustrated Sportsman Of The Year. He has also appeared on the cover of Time Magazine.
In 1977, when he rode 487 winners, he became the first jockey ever to win over €6million in prize-money in a single year. In 1978, aged just 18, he became the youngest jockey to land American racing's Triple Crown. He achieved this on a horse called Affirmed, who he talks about in one of the audio pieces you will find below.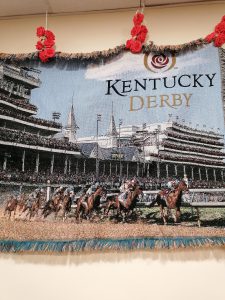 In 1979, he was invited by leading owner Robert Sangster to ride in England as first jockey to Barry Hills. He later joined forces with the great Sir Henry Cecil to produce one of racing's most popular and successful partnerships.
During his time in Britain, he was crowned champion jockey three times, won ten English Classics and was associated with such top-class horses as Oh So Sharp (who he talks about below), Reference Point, Slip Anchor, Pebbles, Old Vic, Triptych and Indian Skimmer.
He is the only jockey to have won both the Kentucky Derby and the Epsom Derby.
Steve Cauthen was, and is, is synonymous with style, manners, class and coolness, both in and out of the saddle. He remains in the sport, owning and managing a stud farm back home in Kentucky.
Any discussion about great jockeys has to include Steve Cauthen.
Will Reilly caught up with him in 2018, and here are extracts from their conversation.
Steve Cauthen talks about his brilliant 1978 Kentucky Derby and American Triple Crown winner, Affirmed
Steve Cauthen describes the Kentucky Derby and what it means to American horse racing
Steve Cauthen on advice he would give to young jockeys
The full interview with Steve can be found below, in which he talks about the significance and importance of the Kentucky Derby, his Kentucky Derby winner, Affirmed, and Affirmed's famous battles with Alydar.
He also talks about the brilliant filly, Oh So Sharp, one of his Derby winners, Reference Point, trainers Barry Hills and Sir Henry Cecil, about staying calm on the big days, the impact on his life of winning the Kentucky Derby, and more.
Here is the full interview: