A good crowd gathered to pick up a few pointers for Cheltenham next week, remember Oliver Brady and support the continued good work of Rita Shah and her Shabra Charity. There was a nine strong panel; Des Scahill DS, Tony Martin TM, Dermot Weld DK, Sandy Shaw SS, Frank Berry FB, Barry Geraghty BG, Shark O'Hanlon Shark, Robbie Power RM and myself,  Peter Kingston representing Bar One Racing who supported the night.
Below is what I could take from it, it's not comprehensive as I was on the panel, so forgive me.
Supreme
BG Chantry House schooled well this morning. Happy with him. Hope he steps up.
RP Fiddlerontheroof, soft ground is key for him
SS Fiddlerontheroof comes out top
Arkle
SS Notebook 158, Fakir 156, Cash Back 156, Maire Banrigh a bit of value 148 but  +7 for mares allowance
BG Likes Brewin'upastorm
Shark Rachael Blackmore has a glint in her eye when talking about Notebook, absolutely loves him. Wins.
Champion Hurdle
RP Supasundae As good a form as we could have him in. Improved a lot from Leopardstown. Cilaos on testing ground could be a danger.
Shark If you could get a bet Nicky Henderson to win the race, that's the one to have
BG Epatante has grown up this year, much more relaxed, schooled well this morning.
SS Felt Honeysuckle ran 10lb below her form in the Irish Champion. Wide open, that said Epatante clear top on figures, quick hurdler. Sharjah bit forgotten, rated to be there on sound surface.
DK Only worry for Epatante is a filly in the spring time
Mares Hurdle
TM Benie
DK Benie
SS Benie 162, Honey 158, underestimated Benie's win in France at the time. v strong
BG Honey may prefer right handed
Ballymore
Tony Martin Likes the Big Getaway
DK Weld  Envoi Allen the one they have to beat, only issue may be temperament (?)
SS 154 Envoi Allen, impressed by Sporting John though
RP The Big Breakaway, really looking forward to him, hasn't come off the bridle yet a worry perhaps, not been fully tested
BG Great race, happy with Sporting John, fav looks hard to beat
RSA Chase
RP Lay Champ, Barry will have to be at his brilliant best to get him jumping and into a rhythm
BG Champ schooled nicely this morning, plenty of rhythm (laughing)
FB Nicky is very happy with Champ
SS Faugheen 156, Copperhead looks the one
TM Often won by an outsider. Tornado Flyer could run well at big price for WPM
Champion Chase
SS Race of the meeting. 175 Altior, lot of time for him, thinks style of racing only reason not 180+! 172 Chacun, 170 Defi
FB Philip Hobbs v happy with Defi. But not a race to have a bet in.
BG Expecting a vintage renewal, classic 3 way finish like Viking Flagship era. Hoping come out on top.
Shark Altior wins
RP Loved Chacun from Punchestown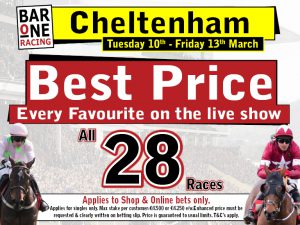 Ryanair Chase
RP Likes Min
Shark Met lads in Willies down the garage this morning, their double for Chelt is Min and Appreciate It
SS Min more an Aintree horse. But A Plus Tard possibly a few pounds short of top class.
BG Likes Min
DK Aso ew
TM Riders on the Storm
Stayers Hurdle
FB City Island, saw him on Curragh other morning, looks great, may be ew alternative
SS Paisley Park a stone clear, City Island viable ew. Benie and Paisley would be rated same with sex allowance and he thinks the mare would win if they met
BG William Henry could outrun his odds
Triumph Hurdle
DK Won the race with a 28/1 shot, can throw up a surprise, that said he likes Solo
SS Irish don't appear to be at the races; 157 Solo, 145 Aspire Tower. Likes Goshen, so impressed with nature of flat wins.
FB All JP's probably run in the Fred Winter
BG Front runners probably set it up for Solo
Shark Fancies Solo, made dirt of them in Kempton
DS Solo an entire
Shark Like yourself he shouts at Des!
RP Impressed with Allmankind at Chepstow, thought he'd come back to them. And impressed with Sir Psycho in Haydock, jumps well.
Albert Bartlett
RP Monkfish best of Irish, Run Wild Fred franked his form. Ride Harry Senior, step up to 3m will suit, good ew chance.
Shark Monkfish
BG Thyme Hill v good horse, horse with a future, one to beat
FB Speaks to Philip Hobbs quite often, thinks the world of him (Thyme)
SS Ramses de Teilee 151 comes out top. He can't fancy him though, something progressive should come past him. Like for it to be Latest Exhibition for Paul Nolan
DK At 9/2 Thyme Hill v fair ew
TM Thyme Hill a very worthy fav
Gold Cup
TM Delta Work
DK Delta Work
SS Al Boum Photo and Kemboy 175 (Kemboy down from 177), more of an Aintree horse. 171 Santini would be 1st horse to in a Gold Cup without winning a Grade 1 prior. So difficult to win a 2nd Gold Cup re Al Boum. Presenting Percy an ew chance.
BG Santini schooled this morning with cheek-pieces, they'll be a big help to him
Shark Presenting Percy
RP Would question Irish form this year, proximity of Jett in Leopardstown. Wouldn't swap Lostintranslation. Forgive one bad run. Big ew chance.
Q&A
TM At the Acorn, hope to get into Cheltenham, failing that a handicap chase in Navan or the Midlands National. Likes him. Cle en Main another Midlands National possible
DK If Dalton Highway would get into the Coral he'd be hopeful of a big run, ew at 25s nrnb
Shark Gives his Rewritetherules a chance in Foxhunters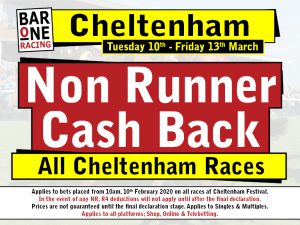 Charity Bets from Bar One Racing
Kate Harrington Supasundae Champion Hurdle 12/1 Tues
Des Scahill   Allaho  Marsh Chase 7/2 Thurs
Tony Martin   Sire de Berlais 7/1 Pertemps   Wed
Dermot Weld   Double: Epatante 7/2 C Hurdle & Solo 3/1 Triumph  Tues and Fri
Sandy Shaw  Aramon 16/1   County Hurdle Friday
Frank Berry  Front View    Martin Pipe   6/1  Friday
Barry Geraghty   Champ   3/1   RSA  Wednesday
For the late Oliver Brady   William Henry  Stayers Hurdle 25ew 33/1  Thursday
Shark Hanlon   Double: Solo 3/1 Triumph & Altior 2/1 Champion Chase   Fri & Wed
Robbie Power   Supasundae   12/1  Champion Hurdle  Tuesday
Peter Kingston   Ben Dundee  10/1 Brown Advisory   Thursday
Next Best from the Panel
Des Scahill    Burning Victory  16/1  Triumph Friday
Tony Martin Couer Sublime  16/1  Champion Hurdle
DK Weld  Fakir Doudairies   9/2  Arkle Chase
Sandy Shaw    Alfa Mix    14/1   Coral Cup   (or wherever he runs)
Frank Berry   Phoenix Way   6/1   Pertemps
Barry Geraghty   William Henry   33/1  Stayers Hurdle
Shark O'Hanlon   Rewrite the Rules   33/1  Foxhunters
Robbie Power    Chosen Mate   Brown Advisory  12/1  (or wherever he runs)
Peter Kingston    Edwardstone   16/1  Supreme
The greatest week of the year is nearly upon us.
Be lucky!