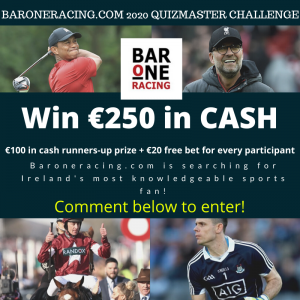 BarOneRacing.com is searching for Ireland's most knowledgeable sports fan with €250 IN CASH to be won while the runner-up will receive €100 IN CASH. Finally, all participants will receive a €20 free bet for taking part!
Here's what you need to know:  
Hosted by Bar One Racing sports broadcaster Kieran Burke, Bar One Racing will be staging daily head-to-head sports quiz showdowns on our social media channels with 32 players facing off in a knockout tournament, with the last man or woman standing to be crowned All-Ireland champion.
To enter simply comment under this Facebook post with your name or tweet @baroneracing using the hashtag #BARONERACINGQUIZ with your name. You can also enter via Instagram by commenting below the competition post with your name. The closing date is 8pm on Friday 20th March 2020. Sports fans who would like to enter must be 18 or over and have access to Skype and be available at short notice to participate in their head to head. Each round will be broadcast on Social Media channels daily!
Terms and Conditions:
BARONERACING.COM QUIZMASTER 2020 CHALLENGE is organised by BarOneRacing Ltd.

The BARONERACING.COM QUIZMASTER 2020 CHALLENGE is open to everyone aged 18 and over, anywhere in Ireland, except to employees of BarOneRacing Ltd and their immediate families.

By entering the BarOneRacing Ltd QUIZMASTER CHALLENGE 2020 each entrant agrees to be bound by these terms and conditions.
To enter the BarOneRacing QUIZMASTER 2020 CHALLENGE you must agree to;
Be 18 or over.

Provide your name, date of birth, telephone number, email address and photo ID to enter

Have an active Skype account or the ability to create one.

BarOneRacing Ltd broadcasting your head to head across BarOneRacing Ltd social media channels including ( Facebook, Instagram and Twitter)
As a participant, you will be automatically bound by these terms and conditions.
Entry into the BARONERACING.COM QUIZMASTER 2020 CHALLENGE is free.
All those who want to enter must apply by Monday 23rd March 2020 via Facebook, Instagram or Twitter.

Entrants will be chosen on a first come first served basis, with 5 reserves in case entrants are unavailable to participate

The maximum number of participants needed is 32, but 5 reserves will be recorded as understudies should the chosen participant be unavailable to participate.

Entrants that do not provide proof of age will be deemed invalid.

All chosen entrants will receive a €20 Free Bet after they complete their 1st Head to Head round.
The Winner of Round 1 of our BARONERACING.COM 2020 QUIZMASTER CHALLENGE head to heads will face each other in the 2nd round and so on until we are left with just two participants.

BarOneRacing Ltd will randomly select participants to go head to head in each round.

The first prize for Overall Winner is €250 in CASH, this prize will be provided by bank transfer or cheque within 72 hours of completion of the final. The runner up will receive a €100 in CASH. 
Head to heads will consist of 5 randomly selected sports questions alternating between players with the first question going the way of whoever wins a coin toss. Should a player answer a question correctly he/she will receive 1 point. However, should they provide an incorrect answer it will allow their opponent an opportunity to steal a point should they then provide the correct answer. The first player to 3 points wins and advances to the next round.
Should participants in Head to Head be level on scores, a sudden death round will ensue – first person to give an incorrect answer loses.

To the fullest extent permitted by law, BarOneRacing Ltd hereby excludes all warranties, representations, covenants and liability (whether express or implied) regarding the prize or a prize draw.

In the event of any dispute regarding the BARONERACING.COM 2020 QUIZMASTER CHALLENGE, the decision of BarOneRacing Ltd shall be final and binding and no correspondence or discussion shall be entered into.

At any time prior to the closing date, BarOneRacing Ltd may withdraw or cancel the BARONERACING.COM 2020 QUIZMASTER CHALLENGE for any reason and may change the prize to a prize of a similar value. Any such cancellation or change shall be notified on BarOneRacing Ltd company blog and social media channels.

BarOneRacing Ltd reserves the right to cancel the BARONERACING.COM 2020 QUIZMASTER CHALLENGE and reject redemption of any Prizes if it reasonably believes that the BARONERACING.COM 2020 QUIZMASTER CHALLENGE or any prize is being used unlawfully or illegally.

BarOneRacing Ltd reserves the right to amend these terms and conditions without prior notice. Any changes will be posted on 

http://bettingnews.baroneracing.com/

By submitting the completed registration form to enter the draw you consent to the storage, use and transfer of your personal data by BarOneRacing Ltd for marketing and related purposes.

The competition and these terms and conditions will be governed by the law of Ireland and all and any questions or disputes will be subject to the exclusive jurisdiction of the Irish courts.

Players must reply within 24 hours of being contacted or risk elimination from the competition.