Most unusually, Alan Marron drew a blank at last week's Dundalk meeting, which has got to be a first in winner-laden 12 months.
Undaunted, he is back to mark your card for the Valentine's Day fixture, Friday February 14th, which has a start time of 5pm.
Bar One Racing prices for Dundalk are available here
We have FOUR EXTRA-PLACE RACES available on the card at DUNDALK! – Please see below
DUNDALK, FRIDAY 14TH FEBRUARY
5.00 IRISHINJUREDJOCKEYS.COM HANDICAP (3yo+ 45-70) Winner €6,490 13 runners 5f Standard RTV
SABRINA FAIRCHILD has shown some very consistent form in recent times and has a very good chance here to get back in the winner's enclosure. Her last run two weeks ago over course and distance was a very good run and she ran on well to be beaten three-quarter of a length behind May Remain. Sarah Lynam is using cheek-pieces for the first time here and that could just help her concentrate a little more and she could finish her race out much better.
The handicapper is giving her a chance, too, as she remains on the same mark of 63 for her last three runs.
She will be hard to keep out of the frame and looks a solid selection for the opener.
Price of selection as at 1:15pm on Friday – 7/2 (from 9/2)
5.30 CROWNE PLAZA DUNDALK RACE & STAY HANDICAP (3yo) Winner €6,490 14 runners 6f Standard RTV
SAMPERS SEVEN returns here after 91 days off the track and looks one of the principals open to improvement and should go very close.
She was an unconsidered 25-1 shot last time out but broke her maiden nicely and the second horse home that night was Big Gossey, who went on to win next time out. That franks the form and it has an even stronger look to it as Bombshell, who was second to Big Gossey, has good placed form on a couple of her runs at the track.
If she has improved over the winter her handicap mark here looks like she can be competitive for Michael Halford, who does well at Dundalk.
Price of selection as at 1:15pm on Friday – 33/10 (from 9/2)
Extra-Place races available today with Bar One Racing, plus a Price-Boost meeting…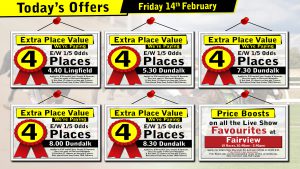 6.00 HAPPY VALENTINE'S DAY RACE (4yo+) Winner €7,670 7 runners 2m Standard RTV
The step up in trip from 1m 2 ½ to 2 miles could be the key that unlocks the improvement that will see KASPERENKO break his Irish duck. Bowerman was a very easy winner of the race that Kasperenko contested last time out but this looks a step down in grade and he should have every chance.
Kasperenko was previously trained by Clive Cox and the trainer was adamant that much of the improvement was due to the fact that the horse was more suited to the all-weather.  I can see him being very hard to beat her on his second run for Ken Condon.
The run last time out was somewhat of a pipe opener and he should be much fitter this time around.
Price of selection as at 1:15pm on Friday – 5/2 (fom 9/4)
6.30 FUNDRAISE AT DUNDALK STADIUM HANDICAP (4yo+) Winner €10,030 10 runners 1m4f Standard RTV
SHEISDIESEL looks to be coming back into form and the handicapper has taken a little chance by dropping her pound to a mark of 82 after a staying-on third last time out behind Guinevere. She was a never-threatening third doing all her best work at the finish.
She has finished second twice off a mark of 84 so 82 look to give her a solid place chance.
If she can get a solid pace and travel away at the back of the field she could have no better man on her back than Colin Keane, who should be able to judge the pace. The trip will be ideal for her and I can see her running a very good race.
Will be hard to keep out of the frame.
Price of selection as at 1:15pm on Friday – 5/1 (from 3/1)
7.00 CROWNE PLAZA DUNDALK RACE & STAY MAIDEN (PLUS 10 RACE) (3yo) Winner €7,080 9 runners 1m2f150y Standard RTV
Colin Keane could be in line for a quick double with CORVUS GLAIVE, who is a very interesting runner for Ger Lyons. I have watched the replay of his debut on more than one occasion and it took an age for the penny to drop and for him to realise what the game was all about. He kept on under hands and heels and that was a strong run, and if he is more streetwise here he should be going very close.
He finished eightth of fourteen that day and that was a very eye-catching run. Most of Ger Lyons' horses will improve for the run and he should go very close here if showing normal improvement.
Price of selection as at 1:15pm on Friday – 5/1 (from 4/1)
7.30 VIEW RESTAURANT AT DUNDALK STADIUM HANDICAP (4yo+) Winner €6,490 14 runners 1m2f150y Standard RTV
Michael Halford has had his horses in solid form over the winter at Dundalk and GOUGANE BARRA could be in line to add to the strike-rate here. He was a very good second behind Jon Ess last time out and, if he can improve a little off the back of that, I would expect a very good run. He runs here off a mark of 70 but has run well off higher marks in the past. He will need a strong pace to aim at but he looks like he will be able to get plenty of cover and come through late and catch them close home.
He is drawn in stall two and that will be ideal to get a position on the rail and hope that the pace will collapse.
There is plenty in here who like to make the running so it should be perfect for Gougane Barra.
Price of selection as at 1:15pm on Friday – 6/1
8.00 BET ON THE BEST NIGHT OUT HANDICAP (DIV I) (4yo+ 45-65) Winner €5,900 14 runners 1m Standard RTV
Followers of my previews will be aware that LADY BOOMERANG has appeared more than once in them and she is back again. I just feel that with her handicap mark dropping considerably in recent times she will go close sooner rather than later. Jessica Maye is on board here and she is claiming ten pounds so that lowers the weight a little more. She really caught my eye under Paddy Harnett when she was fifth to Buzz Killington back on the fourth of October. Her handicap mark has dropped five pound since that and I think that she can be competitive here on the back of that run.
It is somewhat of a speculative selection but it's a small each way play at a big price.
Price of selection as at 1:15pm on Friday – 16/1 (from 40/1)
8.30 BET ON THE BEST NIGHT OUT HANDICAP (DIV II) (4yo+ 45-65) Winner €5,900 14 runners 1m Standard RTV
MUNFALLET looks ideally berthed in stall one to make all the running here and could go very close off a mark of 59. He was fourth behind Major Power last time out off a mark of 60 and that was a very good run. He has won from a mark of 56 and is only 3lb higher tonight. He likes to try and make all the running and this race looks ideally set up for that. This horse has some consistent form at the track and another good run looks likely.
He is a 9yr old and there is not much improvement to come but he should run another creditable race all the same.
Price of selection as at 1:15pm on Friday – 9/2 (from 4/1)