As expected, the opening weekend in the LOI Premier Division proved to be a tight affair with all five games ending 1-0 but we should see goals a plenty this weekend as the First Division returns with a major gulf in class between the sides at the top chasing promotion and the sides simply fighting to stay alive.
The return of the second tier of Irish football has sadly been overshadowed by uncertainty regarding the fixture list and the participation of certain clubs but we now finally know we will be looking at a 10 teams division featuring a Shamrock Rovers reserve side (Shamrock Rovers II).
WEXFORD v UCD, FRI 7.45
Wexford FC were only spared the wooden spoon last season by Limerick FC's 26 point deduction after the season had ended (Limerick FC will not participate this season) and the South East based club have featured in the bottom two in the division for the past three seasons.
It's difficult to predict much of a change in fortunes for Wexford ahead of this latest league campaign with the club clearly placing an emphasis on blooding youth and giving youngsters on the fringes of senior sides elsewhere the opportunity to play senior minutes regularly.
While the philosophy of UCD is generally along the same lines the College have proven their ability to bring through young talent but remain competitive and are something of an unknown quantity ahead of the 2020 season. However, given my earlier statement it would be foolish to dismiss the Students hopes of a play-off push especially given a top 5 or 6 place finish will be enough this term (depending on Shamrock Rovers II's position as they are ineligible for the play-offs or promotion).
Colm Whelan caught my eye in pre-season for UCD, scoring in the 7-1 hammering by Dundalk at Oriel Park but looking a fantastic prospect throughout, while Waterford fans have displayed their disappointment at not retaining the striker who had a fantastic goal rate for the Blues under-19's.
Yoyo Mahdy is one who will be eyeing a move to the top-flight in the second half of the season if he can display his best form while Evan Osam and Liam Kerrigan are strong prospects in their own right.
As mentioned, Wexford have signed youth prospects of their own with Paddy O'Sullivan one I would be familiar with and excited about after a few senior appearances with Longford Town while Conor Crowley, Dan Tobin, Cian Kavanagh and Karl Fitzsimons all interesting arrivals.
Kaleem Simon has arrived after a spell in the North but has never delivered on his supposed potential with the likes of Longford, Bohs, Cabinteely and Athlone which kind of tells you what market Wexford are shopping in for players.
We really won't know much about this UCD team until the real stuff gets underway and they've had a few games together so to use a racing term this is probably one best watched but I do give UCD my vote of confidence.
SELECTION: UCD (23/20)
GALWAY UNITED v ATHLONE TOWN 
Project DNA is no more (a term used to describe Galway's decision to field mostly local & youth players last season). A raft of exotic signings combined with the arrival of established LOI names has seen Galway's profile increased from a run of the mill mid-table side (7th last season) to genuine title contenders in 2020.
Last night the Tribesmen broke the news that Vinny Faherty had finally put pen-to-paper on a new deal and the prospect of a front two of Faherty and Mikey Place should have Galway fans very excited with Place impressing in pre-season after signing from Finn Harps.
Shane Duggan, Dean O'Halloran & Michael Schlingermann rate as three other major signings by manager Alan Murphy and in truth this opening fixture should be an absolute walk in the park for United.
Athlone Town got off to a flyer last season winning their first three games but only managed four wins all season and only finished outside of the bottom two thanks to the Limerick debacle. Last season aside, 2015 is the last time Athlone Town finished outside the bottom two and that year it was an eight team division.
With players arriving from the likes of Tullamore Town, Willow Park and the Leinster Senior League it's absolutely impossible to see how the Midlanders can compete this season and I'd genuinely fear we might see a few cricket scores.
SELECTION: Galway -2 (100/30, -1 available at 13/10 if you want to play more conservative) 
OTHER BET: Mikey Place anytime & Galway win (Request a price) 
CABINTEELY v BRAY WANDERERS, FRI 7.45 
A local derby to open the 2020 season at Stradbrook with Cabinteely supporters still reveling in the clubs historic 2019 campaign as Cabo reached the play-offs for the first time in the clubs five-year LOI history.
However, as expected the vultures soon circled following Cabinteely's play-off defeat to Drogheda and as a result their 2020 squad is unrecognisable with their best players all moving elsewhere.
As for Bray, they were the major let down of last season, failing to reach the end of season play-offs despite spending big in the off-season but the club have kept faith with manager Gary Cronin and handed him substantial transfer funds once again.
Gary Shaw is the marquee addition having played in Europe for Shamrock Rovers and arrives from St.Pat's while Aaron Barry should stand out at this level after signing on the dotted line from Cork City.
Jack Watson is one of the most underrated midfielders in the division for me and will be facing his former club with Tristan Noack Hofmann a signing with a view to the future.
Despite the loss of so many key players, Cabinteely are always a tough nut to crack particularly at home and if we are in for another stormy weekend the open nature of Stradbrook will make things difficult.
With Rob Manley moving to Longford (last seasons First Division top scorer) there will be a massive reliance on Kieran Marty Waters to come up with the goods for Cabinteely while on the opposite side Bray Wanderers have seen a huge chunk of goals removed from their dressing room with Dylan McGlade and Dean Williams moving on.
Mick Kelly will save Cabo plenty of points this season with the goalkeeping giant returning from the UK while his impeccable distribution will give Cabinteely a secret weapon going forward.
However, when you look at what Cabinteely have lost and the fact they have announced a 30+ man squad it suggests Pat Devlin realises he has a case of quantity over quality on his hands this season.
It will be tight but I'm just leaning the way of an away win with Gary Shaw first goal scorer (Price to follow)
OTHER BETS: Bray win (21/20)
COBH RAMBLERS v DROGHEDA UNITED, SAT 7PM
It will be a strange feeling watch the Rams in action this season without the influential and charismatic Stephen Henderson in the dugout but Stuart Ashton is a well respected figure within Cork footballing circles and has done well to retain the services of the vast bulk of the 2019 squad.
As well as that, Ashton has convinced John Kavanagh to join from Waterford in what is most certainly the stand out arrival of the off-season.
As for Drogheda, Tim Clancy will also be delighted to have retained everyone he wanted to wear the Drogs shirt this season and a couple of experienced additions in the shape of Derek Prendergast (First Division winner last season), Jack Tuite and Hugh Douglas could be the difference this time around.
The County Louth club have come up just short in the play-offs the last two years running and with a nice blend of youth and experience evident at United Park this season it's easy to see why they are the bookmakers favorites for the title.
This opening fixture has a very similar feel to the Cabinteely v Bray game as St.Colman's Park is always a tough place to go but with the Drogs out scoring everyone in the division last season (59 goals in 27 matches) then they should have enough to squeeze by a tricky opening weekend opponent.
SELECTION: Drogheda  (17/20)
LONGFORD TOWN v SHAMROCK ROVERS II, SAT 7.30 
After all the controversy and threats of boycotts Shamrock Rovers II will take their place in the First Division this season and Longford Town fans will have fond memories of their meeting with the short lived Shamrock Rovers B team in 2014 as De Town put five past the Hoops reserves to claim the First Division title.
Longford fans will have high hopes of similar scenes come the end of this campaign with popular boss Daire Doyle adding some really nice looking players during the off-season, most notably Rob Manley who should help Town turn possession into goals, something they failed to do under Neale Fenn last season.
There's no doubt about it, Manley is a major upgrade on who De Town had up front last term and if he can replicate his golden boot form of last season then the Midlanders have every chance.
At the other end of the pitch though there are concerns that Longford are weaker than last season with veteran Conor Kenna hanging up his boots while left back Anto Breslin has deservedly moved up to the Premier Division with Bohemians.
Other than that, Doyle has done remarkably well to retain the likes of Lee Steacy, Shane Elworthy, Aodh Dervin and Dean Byrne with five Longford Town players featuring in last seasons team of the year (only Kenna and Breslin featured in that team and are no longer with Town while Aodh Dervin was a shock exclusion from that team of the year).
As for Saturday's visitors to the newly named Bishopsgate Stadium, well there's not a lot I can tell you. The make up of this Shamrock Rovers II side is a relative mystery although I can tell you Aidan Price will be the manager with many expecting his squad to be mainly made up of the clubs most promising under-17 & under-19 players.
If that is the case it would be a major embarrassment should Longford Town not get off to a winning start this weekend as the Red & Black hunt a return to the top-flight of Irish football having not featured in the Premier Division since 2016.
SELECTION: Longford -1 (19/10) 
KIERAN BURKE'S LOI FIRST DIVISION WEEKEND ACCA: 
A €5 stake on Bray, Galway, UCD, Drogheda & Longford Town could return a massive €130.00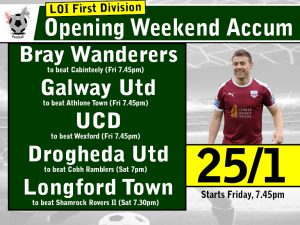 KIERAN BURKE'S 2020 FIRST DIVISION PREDICTIONS: 
Drogheda United (13/5)
Longford Town
Galway United
Bray Wanderers
UCD
Cobh Ramblers
Cabinteely
Shamrock Rovers II
Wexford
Athlone Town
_________________________________________________________________________________________________________________________
Have you checked out Between the Stripes LOI podcast sponsored by BarOneRacing,com? The hit weekly LOI podcast can be found here with a First Division special featuring guests Vinny Faherty and Daire Doyle set to be released Tuesday night. Subscribe on Apple podcasts, Spotify or your favorite podcast outlet.