Stayers' Hurdle preview, by Will Reilly
Here are some stats and facts for the Grade 1 Stayers' Hurdle, the feature race on Thursday March 12th (3:30pm) at the Cheltenham Festival.
In the last 27 runnings of the race, there have been eight winning outright-favourites, plus two joint-favourites. That said, five favourites have won in the last ten years.
Ten other favourites, plus one joint-favourite, have made the frame in the 27 races referred to, so the favourite tends to run well in this race.
In our sample, there have been five Irish-trained winners, including three of the last seven – Solwhit (2013), Nichols Canyon (2017) and Penhill (2018), the last two being trained by Willie Mullins.
Age (based on our sample):
Horses aged six or seven have dominated the race:
Six-year-olds, eight wins
Seven-year-olds, ten wins
Eight-year-olds, six wins
Nine-year-olds three wins
The age stat would count against the older horses; Crimson Embers (1986) is the only 11yo to have won the race since the late 1920s
Horses to have won the race more than once in our sample are Baracouda (2000 and 2002), Inglis Dever (2005, 2007, 2008) and Big Buck's (2009, 2010, 2011 and 2012).
In 17 of the 27 races in our sample, a horse priced in double-figures has made the frame, but no horse priced greater than 17/2 had been successful since Anzum scored at 40/1 in 1999, that is, until 2015 when Cole Harden won at 14/1, followed by Nichols Canyon (10/1, 2017) and Penhill (12/1, 2018)
Nine of the 27 winners had not won over three miles prior to their Stayers' Hurdle success, which includes Inglis Drever the first time he won it and Nichols Canyon in 2017
This race is often won by a horse that is not a huge price, has displayed class, although not necessarily at three miles.
This century, the winning distance of the race has been more than 1.5 lengths on eight occasions (from 19 races) It has been more than 2 lengths on six occasions, including Paisley Park last year (2.75 lengths)
Other stats to consider:
If you back the favourite, there is a good chance that you will get a good run for your money. This year's favourite is Paisley Park (aged eight and has won over three miles)
A horse at a big price will probably get placed (last year's runner-up Sam Spinner at 33/1 is the latest example), although the winner is likely to be returned in single figures.
Age (nine) and gender (no mare has won the race since Shuil Ar Aghaidh in 1993) would count against current second-favourite Benie des Dieux, although, in any case, she is likely to run in the Mares' Hurdle at the meeting.
All things considered, we are left with a short list of one – Paisley Park. They could be betting 10/1 bar one very soon on the race as Champ (currently third-favourite) is also likely to miss the race.
Unless you favour 'recency bias', the home team has a good record in the race.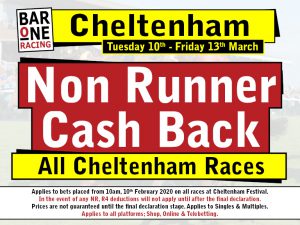 All Things Considered:
All things considered – age, trends, price – Paisley Park, would look to hold a very good chance of winning for the second-successive, but that is reflected in his short price (4/6 as at 3pm on Feb 21st).
If you'd rather side with a bigger-priced to land some money then Summerville Boy (second to Paisley Park in the Cleeve Hurdle at Cheltenham on January 25th), Penhill (who won the Stayers' Hurdle in 2018 and the 'Albert Bartlett' at the 2017 Festival – he is in fact unbeaten in two runs at Cheltenham) and last year's 'Albert Bartlett' winner City Island, whose chase excursions have been curtailed for the moment, are the obvious options.
Of the three, I'd side with Penhill (14/1).
In relation to winning-distances in the race, eight of the 19 Stayers' Hurdles run this century have been won by one length or less, and 13 by two lengths or less. Eighteen of the 19 have been won by 3.25 lengths or less, with only Thistlecrack, in 2016, winning by further than this (seven lengths).
Verdict:
Paisley Park to win by three lengths or less (which we had available at 9/4 at 3pm on February 21st) and Penhill each-way (14/1) could be the best ways to play this race.