Super Bowl 54 is rapidly approaching and on Sunday night we will learn the identity of this years finalists as the AFC and NFC conference championship games are down for decision.
While the story of the off-season so far has been New England's Super Bowl dominance coming to an end as the Pats were dumped out at the wildcard stage, Sunday's AFC decider will create headlines of its own with the Titans looking to secure just a second ever Super Bowl appearance twenty years after their last, while the Chiefs haven't seen the big stage in half-a-century.
Meanwhile, the NFC showdown has its own interesting subplot with the 49ers defeating the Packers 37-8 in week 12 of the regular season but with Green Bay QB Aaron Rodgers enjoying another fantastic campaign things ought to be tighter this time around with the 36-year-old looking to add to his legacy and claim and second Super Bowl ring.
AFC: Tennessee Titans @ Kansas City Chiefs (8.05pm, Sun 19th Jan, Sky Sports Action). 
These two served up a thriller in the regular season as the Chiefs eased into a 10-0 lead after the first quarter before the Titans surged back to win 35-32, thanks in large part to running back Derrick Henry who ran in two TD's and 188 yards off 23 carries (8.2 average).
Henry has been in sensational form for the Titans this year, running in 4 TD's in his last 3 games (16 TDs this season) and recorded 195 yards from 30 carries (6.5 average) in last weeks 12-28 win over the Ravens.
It's clear that if the Chiefs wish to reach the Hard Rock Stadium in Florida next month they will have to find a way to snuff out the threat of Henry.
So it's clear what the Chiefs will have to do on defense but going in the other direction all eyes will be on QB Patrick Mahomes who boasts the league's highest passer rating and completed 321 yards passing in their 51-31 win over the Texans last time.
Chiefs tight end Travis Kelce recorded 134 receiving yards and three touchdowns in that stunning divisional success against the Texans and will again be the main support act for Mahomes.
Despite losing to the Titans in the regular season, that defeated seemed to be something of a turning point for Mike Vrabel side as they won their next 6 games to end the regular season with a 12-4 record.
As long as the Chiefs can put a marker down early and send Derrick Henry a clear message that he won't be getting things all his own way this time around then I'd have to fancy the very consistent Chiefs to overturn that regular season result and reach their first Super Bowl in 50 years.
SELECTION:  Kansas City Chiefs (3/10)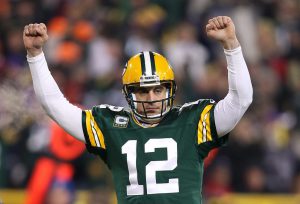 NFC: Green bay Packers @ San Francisco 49ers, 11.40pm, Sun Jan 19th, Sky Sports Action) 
Former deputy to Tom Brady, Jimmy Gaoppolo will look to take the first step in his own journey to legendary status by guiding the 49ers to the Super Bowl with San Francisco holding home-field advantage as the Packers roll into town.
Drafted by the Pats in 2014, this has been the QB's breakthrough season, playing just 3 games in 2019 but the former college player with Eastern Illinois has taken his big break with both hands, recording almost 4000 yards in the regular season, more than double his overall career tally to date.
On the other side will be legendary California born QB Aaron Rodgers who is hunting a second Super Bowl ring.
Despite Rodgers brilliance and vast experience, San Francisco will arrive confident in terms of minimizing his threat after destroying Vikings QB Kirk Cousins with 6 recorded sacks in their divisional win and also holding Minnesota to just 21 rushing yards in a defensive master class.
Routing Green Bay 37-8 in the regular season, the 49ers will be red hot favorites to advance to the Super Bowl with over confidence probably the biggest threat which could derail that dream.
Of course, it should be noted the Packers bounced back from that awful display to win their next 5 games in the regular season but the 49ers will enjoy home comforts for this high pressure showdown on Sunday.
Perhaps the underdogs tag combined with a lack of experience under the belt of the opposition QB could make for a perfect storm for the Packers but for me San Francisco have just been so impressive this season and despite both teams holding 13-3 regular season records, it was the 49ers who significantly outscored this weekends rivals and as a result they should have too much for the Packers once again.
SELECTION: San Fransico 49ers (4/15)