The much-belated showdown between Conor McGregor and "Cowboy" Donald Cerrone takes place in Las Vegas at UFC 246 in the early hours of Sunday morning with the Irishman returning to the Octagon for the first time since his comprehensive defeat against Khabib in the main event at UFC 229 in October 2018.
Much has happened both inside and mostly outside the fight game since the former simultaneous two-weight world champion last took part in a UFC fight weekend, but all of that aside, this looks an intriguing match up, particularly at 170lbs.
McGregor famously stepped up from 155lbs to the 170lb welterweight division to tackle Nate Diaz in 2016 with the American brawler handing the Dublin native his first UFC defeat after McGregor tapped out thanks to a rear naked choke.
McGregor's wrestling skills have been questioned throughout his MMA career, but the former Cage Warriors champion showed an ability to adapt his game in a rematch for the ages with McGregor showing some great takedown defence to mainly keep the bout a stand-up fight, which ultimately favored the former amateur boxer McGregor, who won by split decision despite an on-the-buzzer takedown by Diaz which many feel should have swung the outcome his way.
Nonetheless, McGregor went on to absolutely dismantle Eddie Alvarez and, in the process, become the UFC's first-ever simultaneous two-weight world champion, holding both the 145lb and 155lb titles.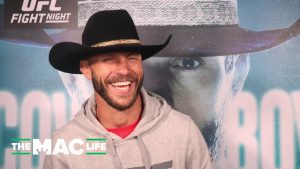 However, McGregor's wrestling skills (or lack of them as many critics would argue) were once again exposed when Khabib forced the Crumlin fighter to tap out for the second time in his UFC career and he must now make a winning return against a fighter who has finished 10 of his 36 UFC wins by submission.
The rear naked choke is a particular favourite submission hold for Cerrone and, given McGregor gave up his back in defeat against Diaz and Khabib, you've got to imagine that will be the area of focus for Cerrone on Saturday night.
On the flip side, Cerrone arrives here off the back of consecutive defeats via knockout/TKO against Tony Ferguson and Juston Gaethje and, with McGregor's punching power no hidden secret, it is clear the Irish fighter will be looking to follow the same blueprint he executed to perfection in his rematch with Diaz.
McGregor has spoken about a change in approach in the build-up to this comeback and how he had consumed alcohol throughout his training camp in the lead-up to his last fight. Whether that is simply fight week talk and an excuse for his below-par showing last time remains to be seen, but what is notable is the physical condition McGregor appears to be in.
Initially struggling with the step up to 170lbs when losing to Diaz in a fight in which the Irishman looked sluggish and lacking in his usual dynamism, given this is now his third fight at this weight, you'd like to think McGregor will be a lot more comfortable at 170lbs than in the past and, if managing his energy levels better than he has done in the past, then he stands every chance of making a winning return.
McGregor has only gone past the third round three times in his UFC career and has often faded dramatically in the latter stages of these fights, particularly when he was forced to end his rematch against Diaz playing a very conservative game leading Diaz to accuse the winner of "running" from him.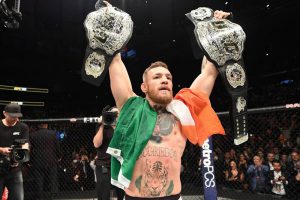 Cerrone has gone the distance (5 rounds) 4 times in his UFC career with a mixed record (2-2) but, nonetheless, the American's experience in such situations means the further this fight goes at the weekend the more doubt you may have regarding Conor McGregor prospects of victory.
Again, for me this fight will all come down to McGregor being able to bring his dynamism, quickness and energy into the early stages of this fight, something he has most definitely struggled with at this weight in the past. Should the former "champ champ" bring his striking A-game to the Octagon on Saturday night then he should have too much for what is a very dangerous opponent, yet one who is lacking in the same kind of movement and agility as McGregor meaning the Irishman most certainly has the edge when it comes to the striking game.
However, should Cerrone land an early takedown, that could set the agenda for how this fight may develop, and if "Cowboy" can get on top of McGregor in the opening couple of rounds and run down the Irishman's energy reserves then we could very well see an upset, and with it major question marks over 31-year-old McGregor's future in MMA.
So with all of that in mind, what stands out in terms of betting value? Well, Cerrone to land two or more takedowns at 6/4 looks a fair bet given Cerrone's best chance of victory lies with him turning this into a night of frustration for McGregor and not going toe-to-toe with one of the cleanest strikers the UFC has ever seen.
For me, there is no chance this fight goes the distance but at 1/6 there's little value to be had in backing such an assertion but if you are looking to oppose the 3/10 fight favorite Conor McGregor then Cerrone by submission at 6/1 certainly offers attractive value.
In saying all of that, I do fancy McGregor to have just slightly too much for his opponent this weekend and history would suggest McGregor by TKO/KO (1/2) and McGregor to win in round 1 or 2 at 5/6 are most likely the way to go but if you're willing to take a risk in the hunt for better value then McGregor to win in round 3 or 4 at 5/1 might be worth a small stake.
*Always gamble responsibly*