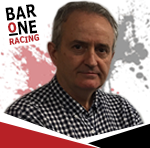 A watching brief is advised until the effect of the draw and the going are known at Ayr on Saturday. The Ayr Gold Cup is due off at 3:50pm, with the Silver Cup, which is run over the same course and distance, due off at 2:40pm.
On Friday afternoon the going at Ayr was given as heavy, soft in places. The first six home in the Ayr Bronze Cup were drawn in the following stalls: 16 – 23 – 25 – 20 – 11 – 6. Friday was a dry, sunny day.
Last year, the race was switched to Haydock. In the five renewals at Ayr prior to that, the winner ran from stall 8 on three occasions and stall 19 twice. If only it was that easy to find the winner!
On the occasions that stall eight won, the going was good to soft or heavy. When stall 19 won, it was good to firm and good to soft.
The last nine times the race has been staged at Ayr, the first five finishers were drawn in the following stalls (with the official going in brackets):
2016 – 8 – 6 – 7 – 11 – 10 – (good to soft)

2015 – 8 – 4 – 9 – 5 – 20 – (good to soft)

2014 – 19 – 2 – 26 – 24 – 25 – (good to firm)

2013 – 19 – 18 – 22 – 16 – 14 – (good to soft)

2012 – 8 – 19 – 13 – 2 – 22 – (heavy)

2011 – 12 – 16 – 9 – 15 – 22 – (soft)

2010 – 17 – 24 – 8 – 11 – 25 – (good)

2009 – 15 – 6 – 9 – 3 – 11 – (good)

2008 – 20 – 21 – 26 – 11 – 24 – (heavy)
Given the prize-money on offer, it is no surprise that a horse of Listed or Group class often wins the contest.
Only one three-year-old has won the race in the last ten years.
Trainer Kevin Ryan has won three of the last six Ayr Gold Cups that were held at Ayr. He has four runners on Saturday, the shortest-priced being Major Jumbo (drawn in stall 9), who is certainly capable of running well, having finished third in a valuable and competitive handicap at Ascot in July.
In the nine years referred to above, no horse has carried less than 8st 10lb to victory, with seven of the nine having carried 9st or more. Given that the betting is dominated by horses carrying 8st 12lb or more, this stat may be a moot one. Maybe.
These horses include Fozzy Stack's Son Of Rest (stall 17). He finished second in the Group One Derrinstown Stud Flying Five at The Curragh last Sunday and, as a consequence, has been raised ten pounds to a rating of 111. However, he can race from his old mark of 101 at Ayr, which, theoretically, makes him well handicapped.
Trainer Tim Easterby has had a tremendous season and he is responsible for, amongst others, Flying Pursuit (who will love the going) and Golden Apollo (stall 4).
Flying Pursuit (stall 3) looks handily-enough weighted and is also a course-and-distance winner. However, stable jockey David Allan has been booked for Golden Apollo and, given that he is now rated just three pounds higher than for a win at Ascot last season, it would be no surprise to see him go well.
That may seem like an odd comment given that Golden Apollo has failed to win in nine attempts this season. However, it is always a good idea to look at what a horse has proven itself capable of doing (especially sprinters) and not just recent form.
This could, of course, lead to your 'shortlist' of possible winners being quite long. Hey, there's £200,000 up for grabs here so no one's going to get the race handed to them on a plate or, rather, in a gold cup.
Gunmetal (stall 15) comes here on a high, having won three of his five races this year, although he now races from a career-high rating.
Aces (stall 14) has won twice from just four runs since joining the shrewd Ian Williams and a good run would be no surprise from a horse that has won four of his last nine races and is lightly-raced for a six-year-old.
Only two of the last ten winners were priced in single-figures, but they have been two of the last three, although there has been only one winning favourite in the last ten years. None of the ten winners was returned at bigger than 20/1.
It all adds up to a competitive race but, factoring in all of the facts and figures given above, my two against the field are Major Jumbo (16/1) and Flying Pursuit (12/1), with Major Jumbo preferred from his stall.
Don't forget, though, come Saturday, to make one last check of the effect of the draw.
Quoted prices correct as of 16:31 19/09/18